The mistakes didn't stop there, some of the major ones included:

1/ 200 policeman got off of the special police train at Glenrowan. History proves there was only 24, this includes policemen and news reporters etc that got off of the train on Monday June 28th 1880.

2/ Curnow, the local Glenrowan school teacher, escaped from the Glenrowan Inn, and stopped the special police train, when really, Ned Kelly himself released Curnow late June 27th 1880.
I can't express my disgust on this film over my website, I was very disappointed by this movie, this was their only chance to make a good Kelly film for the next 30-40 odd years.
Perhaps I am too much of a "Kelly Fanatic" to fairly rate this film, and I probably have been to harsh, but it was BAD.





By far the most comprehensive film ever made about the Kelly gang, and Joe in particular was written and produced by the worlds number Kelly authority, the man, Ian Jones.

Ian, has had a lifetime of study into the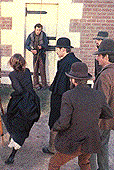 Kelly legend, and has uncovered some astonishing facts and figures, that would have never been discovered.
The cast of The Last Outlaw includes: John Jarret as Ned Kelly, Steven Bisley as Joe Byrne, Sigrid Thornton as Kate Kelly, David Bradshaw as Wild Wright, Lewis Fitz-Gerald as Tom Lloyd, Elaine Cusick as Mrs. Kelly, Peter Hehir as Aaron Sherritt and Gerard Kennedy as Harry Power.
The last outlaw is not really a movie, but a mini-series screened on channel 7 over a period of 4 days, and 8 wonderful hours. Unfortunately the Last outlaw is hard to come by; it was never released on VHS or DVD.
In summing up, this is the BEST Kelly "film" out there!