WRITINGS | MC INTYRE'S ACCOUNT OF STRINGYBARK CREEK

The below lines, are the official reports from Constable McIntyre, during his stay at Stringybark creek.

On Friday, 25th inst., Sergeant Kennedy, two constables, (Scanlon and Lonigan) and myself went in search of the
Kelly brothers charged with attempting to murder Constable Fitzpatrick. We camped that night at Stringy Bark Creek, about 20 miles from Mansfield; the following morning at 6 a.m., Kennedy and Scanlon patrolled down creek; I was ordered to do cooking for party in their absence.


About 5 p.m., was making tea; I was unarmed, my revolver being in the tent; Constable Lonigan was standing by my side; heard voices crying out "Bail up, hold your hands up." Turned around and saw four men with guns pointed at us, two of whom I identified as Edward and Daniel Kelly from description; immediately held up my hands; Lonigan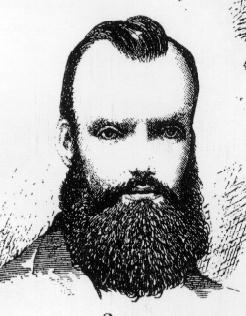 endeavoured to get behind a tree, three or four yards off, at the same time placing his hand upon his revolver; before he could get his revolver he was shot and fell; the four men then rushed towards me, and I heard Lonigan exclaim, "Oh Christ I'm shot." The four men ordered me to keep my hands up, and asked if I had any firearms; I replied I had not; they then asked me where my revolver was; I said at the tent; Edward Kelly then searched me for my firearms; I was then about fifteen paces from the tent; when he found I had no arms he told me I might put my hands down; they then searched Lonigan and took the revolver from him; then searched tent and took firearms and ammunition. Edward Kelly, looking towards the body of Lonigan, said "Dear, dear, what a pity that man tried to get away;" he said to me "But you're all right." One of the other men asked me to have some tea and a smoke, which I did; I gave them some tobacco; the shot that killed Lonigan was fired by Edward Kelly; that was the only shot I saw fired at Lonigan. Daniel Kelly, producing a pair of our own handcuffs, suggested that I should be handcuffed. Edward Kelly said "No, there is something better than handcuffs here," tapping his rifle, which he had reloaded; he also said, "Don't attempt to go away, for if you do I will track you to Mansfield, and shoot you at the police station;" he asked me when I expected my two mates to return, whom he knew were out; told him I did not know; they should have been home long ago; I expected they were bushed. Asked me several other questions about our names, horses, arms, etc. Asked where the rifle was that we had, I told him the party on patrol had it; also asked their names; I told him, when he said he had never heard about Kennedy, but he believed Scanlon was a flash b-----. I asked him what he intended to do, and said "surely you don't intend to shoot them down in cold bold, because I would rather be shot a thousand times than give information of them, one of them being the father of a large family." He said "I'll shoot no man if he'll hold up his hands and surrender." Asked what he intended doing with me, if he was going to shoot me; he replied, "No, what should I shoot you for; I could have shot you half an hour ago; at first I thought you were constable Flood, and if you had been, we would have roasted you on that fire."
They then concealed themselves awaiting the arrival of my mates, Kelly being near the fire; he ordered me to stand close to him; he said "that b----y Fitzpatrick is the cause of me and my brother turning out. Those people lagged at Beechworth the other day, were lagged innocently; they no more had revolvers in their hands that night than you have at present." Then asked me what became of the Sydney man, referring to the murder of Sergeant Wallings; I replied that he was shot by the police; he then said, and I suppose you b-----s have come out here to shoot me; "I answered, no; we have come to apprehend you." He asked what brought us there, and said, "is'nt it a shame to see big strapping men like you in a lazy, loafing billet like the police force." I replied that we were ordered to go out. He said if he let me go I should have to leave the police; I told him I would; asked him if I got the other two men to surrender, what he would do with us; he said "you had better get them to surrender, for if they escape I will shoot you, or if you let them know in any way that we are here, you will be shot at once; but if you get them to surrender I will allow you to depart in the morning, but you'll have to go on foot, as we want your horses; we will handcuff you all night, as we intend sleeping here ourselves tonight; "I asked him if he would promise faithfully to allow us to depart, to which he consented; I asked him if he would prevent the other men from shooting us, and he said they could please themselves; he would not shoot us. During this conversation, one of the bushrangers was concealed in the tent, and the other in the scrub, awaiting the arrival of Kennedy and Scanlon. I told Edward Kelly that I would try to get the other two constables to surrender if he promised not to shoot them. Before the other bushrangers could be informed of our agreement, Sergeant Kennedy and Constable Scanlon came in sight Kelly said "Hush, lads, here they come, you (to me) sit down upon that log, or I'll put a hole through you." I said, Oh, Kelly for God's sake, don't shoot the men, and I will get them to surrender;" Kennedy then came up in advance of Scanlon; I went near to Kennedy, and as I did so, Kelly and his mates cried out, "Bail up, throw your hands up." Kennedy grasped the case of his revolver, and immediately shots were fired; I advised Kennedy to dismount and surrender. Scanlon dismounted, and endeavoured to get behind a tree, at the same time trying to get his repeating rifle, which he had on his shoulder; but before he could do so, or secret himself, he fell from a gunshot wound under his arm; saw blood spurt from his side as he fell; at this time there were a great many shots being fired by Kelly's party, none of the police being allowed time to draw their firearms. Kennedy then surrendered after endeavouring fruitlessly to draw his revolver, but as the firing continued, and thinking that Edward Kelly did not intend to keep his word and spare our lives, I seized Kennedy's horse (being near me) mounted, and rode off. As I did so I heard Daniel Kelly, cry out, "Shoot that b------, shoot that b------." A great many more shots afterwards were fired, but none struck me; Kennedy was close to me when I mounted; he said to Kelly's party "All right boys, don't shoot, don't shoot." I rode towards the telegraph poles through very thick scrub; I got very severe fall from the horse; I re-mounted and rode about two miles further; finding the horse was giving in I thought he was shot, and taking bridle and saddle off, abandoned him; ran a short distance, and concealed myself in a wombat hole, when I made a short entry in memo. book of what had occurred. The following are the memos. alluded to:-- [Met Kelly and others, stuck us up today, when we were disarmed. Lonigan and Scanlon shot. I am hiding in wombat hole until dark. The Lord have mercy upon me. Scanlon tried to get his gun out."

----------------------------------------------------------------------------------------

----------------------------------------