Welcome to the first edition of Joe Journal. In this edition, I will introduce you to the the Joe Journal. In Joe Journal, I will keep you up to date with all the news on Joe, or any other member of the gang and sympathizers, relative, the lot. This first edition will be short and sweet, but the rest I promise you will be jam packed !
FAREWELL NED: THE EXHIBTION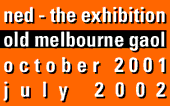 So, as Joe Journal enters it's first edition, Ned: the exhibition, enters it's last, Ned: the exhibtion, closed, for good, last Wednesday, and it had a lot of Joe photographs, even Joe's faithful armour was there for a short period.
The exhibtion is now looking for a more permanent spot, in Kelly Country to host the spectacular range of Kelly gang relics. As Matt Shore, co - director of Ned: the exhibtion clearly states:
" It is hard to believe that the exhibition finished last Wednesday (July 31st) - nine months have come and gone so very fast! It has been an incredible year for anybody interested in Australian history, and more particularly the Kelly story. The last twelve months have seen an amazing array of items resurface and exhibited, production of the new Heath Ledger come and go, a controversial photo auction, the Kelly armour 'reunited' after 122 years and of course the most comprehensive Kelly exhibition ever staged - which also included the first public exhibition of Ned Kelly and Joe Byrne's Jerilderie Letter.

The amount of unseen Kelly relics and photographs that have recently surfaced, and those that are rumored to still exist have truly astounded and inspired us.

Ned: The Exhibition has been visited by over 120,000 people in nine months at the Old Melbourne Gaol "
So, Ned: the exhibtion is finally over, I can still remember the first time I ventured there, just as the launching dinner began, the ending dinner was equally as good, a relaxed pleasant night at the Old Melbourne gaol, ending with the thanks and speeches. Joe Online will remember, respect and never forget the wonderful exhibtion compacted together by Matt Shore and Brendan Pearse, well done fella's! Also check Ned: The Exhibiton out online at www.nedtheexhibition.com
MIKE LAWSON.